The construction industry in Australia generates more than $360 billion a year in revenue and employs around 1.2 million people. But what percentage of that workforce is women? And how can you become a tradie lady and smash down the gender bias wall?
LET'S TAKE A LOOK AT WHAT IS THE GENDER SPLIT IN THE CONSTRUCTION INDUSTRY
According to the Australian Bureau of Statistics, the building and construction industry is the most male-dominated sector in Australia – particularly at managerial and executive level. Around 97% of CEOs and 88% of senior managers in the industry are men. But there are signs more women are interested in working in construction.
Construction Skills Queensland (CSQ) data found female tradies completing apprenticeships more than doubled from 2010 to 2020, while the over number of women in construction increased from 44,583 in 2015 to 59,587 in 2020, for an increase of 34%. But overall, across the country, just 2.5% of tradies are women.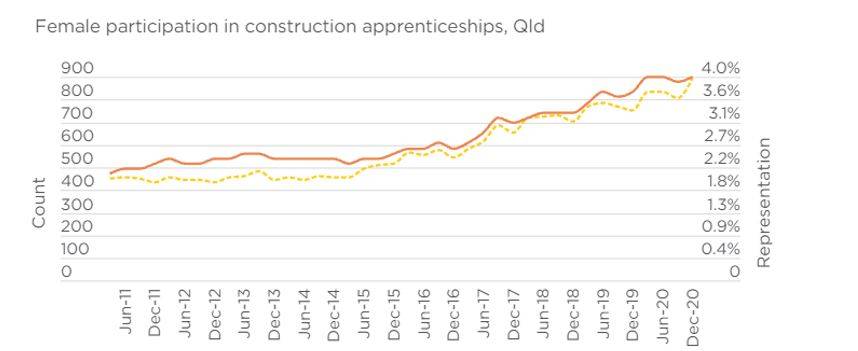 Source: CSQ
WHICH POSITIONS ARE WOMEN IN CONSTRUCTION MOST LIKELY TO WORK IN?
Although women make up around 13% of the construction workforce, of that close to 87% work in office positions, such as administration, sales, or management. CSQ said the most popular trades for women were painting, tiling, gardening and landscaping, plastering, and earthmoving plant operators.
WHAT ARE SOME OF THE BARRIERS WOMEN IN CONSTRUCTION FACE?
A 2016 study by the University of NSW found issues such rigid work hours, parental leave policies, pay inequality, and exclusion, all contributed to barriers for women working in the construction industry. The study cited a lack of work life balance for women, who felt they were left to choose between working in construction of caring for their family. This extended to parental leave policies.
"Parental leave is viewed as an actual and resource cost on construction project, with little recognition of the cost on women's pay equity and career progression" – UNSW study
There is still around a 14% gender pay gap in Australia, and the construction industry is slightly above the national average at 16.6%.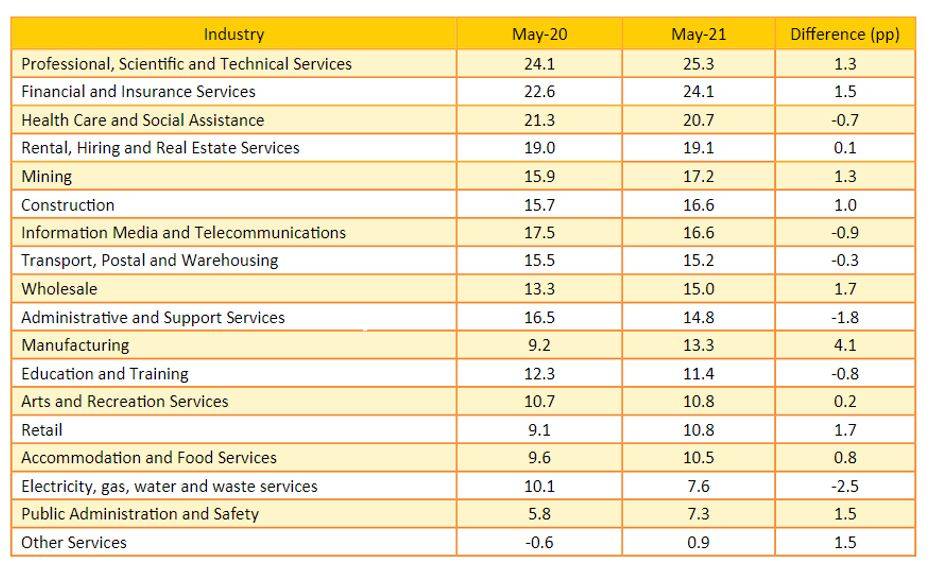 Source: Australian Bureau of Statistics
ARE THINGS IMPROVING?
Some companies are looking at ways to increase female representation on the tools, such as actively hiring more women, and giving them greater access to opportunities for career progression. There is data to suggest 13% of construction companies are now owned by women, which is an increase of 64% over five years.
Infrastructure company ACCIONA Australia and New Zealand recently ran a construction project with a 50:50 split of men and women to see the results, and the project finished ahead of schedule and under budget.
"We wanted to break the paradigm. It's very unusual to finish ahead of time and ahead of budget. So that was an excellent outcome." – ACCIONA Australia and New Zealand COO Andre Noonan.
Mr Noonan said it makes absolutely no sense for the entrenched gender bias to continue because it's simply not sustainable as a business model.
Governments are also actively working to boost the number of tradie ladies. The Queensland government has set targets for its construction arm QBuild to boost the overall representation of women in construction. In New South Wales, the state government announced it will support 3,000 training placed for women in trades to boost representation. The Victorian government also plans on greater funding for apprenticeships and training for women.
"Each year, governments spend billions of dollars on procurement, and procurement guidelines are one of the most powerful tools that governments have got to accelerate gender-inclusive economic growth." – Victoria's Public Sector Gender Equality Commissioner Niki Vincent
HOW TO GET STARTED
You can also help boost female representation in the construction industry by studying an online building or construction course. With strong future growth predicted, and increased incentives for women to join the industry, the future looks bright for tradie ladies.
Get in touch today to learn more about your study options.
Sources: Australian Bureau of Statistics, Construction Skills Queensland, ABC, Australian Industry and Skills Committee, UNSW, Big Rentz, Queensland government, NSW government, Victoria government